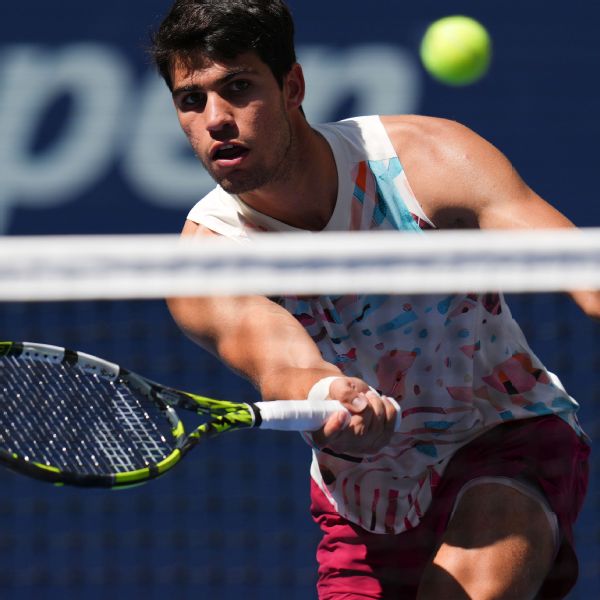 NEW YORK — Ever since Carlos Alcaraz was 12 or so — OK, not forever ago, considering he's still just 20 — he made sure that variety was a key element of his game.
Back then, he explained, there were so many options at his disposal that he might encounter a bit of trouble figuring out which to employ. And, he acknowledged, that can even be the case to this day.
Alcaraz was by no means perfect during a 6-2, 6-3, 4-6, 6-3 victory over 26th-seeded Dan Evans in the US Open's third round on Saturday — there was that wayward set, after all — but the defending champion produced enough moments of brilliance to keep himself smiling and his many fans in New York roaring in approval.
To hear the No. 1-seeded Alcaraz explain it, "a lot of different" possibilities enter his mind in the midst of a point — "the drop shot, big forehand, go to the net, multiple things" — before he selects which stroke to try. It can make things "difficult" on occasion, he said.
"Most of the time, I find the right one," the Spanish star said, "but sometimes I struggle to hit good shots because of that."
His opponent in Arthur Ashe Stadium on Saturday noticed.
"If anything, he probably plays too many shots," Evans said. "He let me out of jail a few times playing the wrong shot, which was good for me."
But there also were those "How did he do that?!" highlights that Alcaraz conjures up with frequency.
One in particular helped swing Saturday's match his way for good. Evans was seemingly in control of what would become a 12-stroke point, sending Alcaraz scrambling to his left for a defensive backhand. On his follow-through, Alcaraz stumbled a bit, nearly tumbling to the blue court. But he gathered himself and quickly switched direction, sprinting to his right with seven lengthy strides before sliding wide of the doubles alley as he flicked a down-the-line forehand.
The ball caught the back of the baseline for a winner that converted a break point for a 4-2 edge in the fourth set. Evans chucked his racket toward the bottom of the net, grimaced and placed his hands on his hips. Alcaraz raised his arms, using his left index finger to make a "No. 1" gesture.
"Took the wind out my sails," Evans said.
So what's it like to play Alcaraz?
"I'm not sure you know — well, I definitely didn't know — what's, sort of, coming next," Evans said. "And that, sort of, sets you on the back foot and [makes it] difficult to anticipate."
Less than 12 hours after the man he's expected to meet next weekend for the title, Novak Djokovic, needed to overturn a two-set deficit to win in a match that ended a tad after 1:30 a.m. on Saturday, Alcaraz progressed to the fourth round at Flushing Meadows for the third consecutive year.
"I watched the first two sets, then I had to go to sleep," said Alcaraz, who won his second Grand Slam title by edging Djokovic in the Wimbledon final in July. "But when I [went] to bed, I was thinking, 'Novak is going to come back, that's for sure.'"
Alcaraz improved to 14-1 over his nascent career in New York and is trying to become the first man to win two titles in a row in New York since Roger Federer took five straight from 2004 to '08.
"I would love to be part of tournament history with Roger," Alcaraz said. "That's my main goal right now."
Matches Monday that will put the winner in the quarterfinals include No. 8 Andrey Rublev against Jack Draper — a 21-year-old left-hander from Britain who has never been this far at a major — and No. 6 Jannik Sinner against No. 12 Alexander Zverev.
Third-seeded Daniil Medvedev cruised into the fourth round with a 6-2, 6-2, 7-6 (6) victory over Sebastian Baez. Medvedev moves on to face No. 13 Alex de Minaur, a 6-1, 6-3, 6-2 winner over Nicolas Jarry.
Alcaraz's next foe is Matteo Arnaldi, a 22-year-old from Italy who is ranked 61st. Arnaldi, who had won a grand total of one Grand Slam match before this tournament, reached the fourth round by eliminating No. 16 seed Cameron Norrie of Britain 6-3, 6-4, 6-3.
"First time in the second week of a Slam. First time playing the world's No. 1 player," Arnaldi said. "I'm new on the circuit, so they're all new matchups — for me, but also for them."
And if he were to take on Alcaraz in 23,000-seat Ashe?
"I've only seen it from the outside. I've never been inside still," Arnaldi said. "So if that's where I happen to play, maybe I will take a walk around near the court beforehand."
Information from The Associated Press was used in this report.