Sure, the holidays are over…but winter has a long way to go. This year, instead of holing up in the house for the next four months, why not embrace the beauty and excitement of our fantastic Minnesota winter? See what's cooking in Cook County. You're going to discover that it is the coolest county in the state…and we're not talking about the weather.
Natural beauty abounds here
Just a four-hour drive northeast of the Twin Cities, Cook County is a world apart from the metro area. Elegant pines and an abundance of lakes and streams decorate the landscape. The area boasts Minnesota's highest natural point—Eagle Mountain—at 2,301 feet and snuggles up to Lake Superior at its southern border. In winter, snow blankets the stunning Superior National Forest, sparkling in the bright winter sunlight. You might even get lucky enough to catch a glimpse of some of the county's "locals"—moose, fox, lynx, beavers, and otters to name just a few. And of course, no visit would be complete without the sound of hooting owls or the memorable cry of Minnesota loons.
If you're simply looking for a pretty place to peace out, Cook County is the place to be. But if you're looking for more, Cook County is the place to explore.
What brings you to this neck of the woods?
Cook County boasts four distinct communities ready to welcome you whether it's for a multi-night winter getaway or just a quick day trip. Each area offers charm and beauty all its own. Pick one that suits your itinerary or explore them all.
Lutsen, Tofte and Schroeder 
Dotting the shoreline of Lake Superior, the communities of Lutsen, Tofte and Schroeder are the southern gateway to Cook County. Whether you're in search of outdoor adventures or the comforts of the great indoors, you'll discover it here.
Eager to hit the slopes? Schuss on over to Lutsen Mountains, the largest ski resort in the Midwest with 95 runs, 4 mountains and 1,088 feet of vertical. With an average of 120 inches of snow per year, why would you go anywhere else?
There are plenty of other ways to embrace winter while you're here too. Strap on some snowshoes and discover the epic beauty of the Superior Hiking Trail; glide through the largest cross-country ski trail network in North America; enjoy a wild ride along 450 miles of snowmobile trails; or experience the magic of the Northern Lights on a crisp, clear winter evening.
The ideal lodging makes for a perfect North Shore adventure. You'll find everything from cozy cabins to hotels to full-service resorts here. There are even winter campgrounds if you're feeling adventurous.
---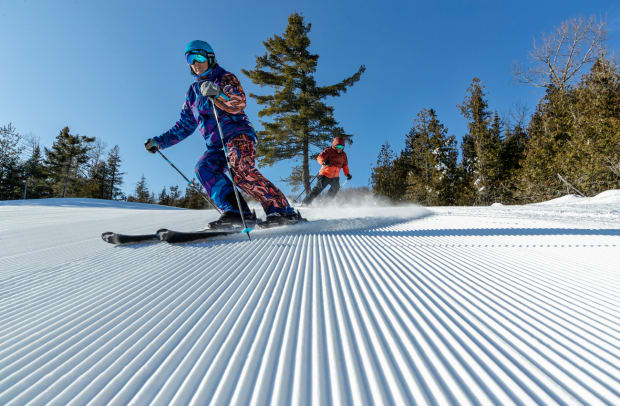 ---
Grand Marais
Known for its arts community and inspirational surroundings, Grand Marais has been named "America's Coolest Small Town" by Budget Travel Magazine. The oldest art colony in Minnesota resides in this harbor village, where you're sure to find something to treasure in one of its many amazing shops and galleries.
Of course, there are opportunities to pursue all the winter adventures you love here too like cross-country skiing, snowshoeing, snowmobiling and ice fishing. Up for something different? Why not go for a winter hike through the Superior National Forest or try out some winter fat tire biking?
After you've worked up an appetite, you'll find a feast of local eateries and restaurants here, from small cafes to casual grills to classic supper clubs.
Grand Portage
Visit Grand Portage and you will have ventured to the very tip of Minnesota's Arrowhead Region. The area is home to the Grand Portage Band of Lake Superior Chippewas who established one of the earliest Ojibwe settlements in the state. It is a magical place filled with culture, history and natural beauty.
You'll want to be sure to pay a visit to the Grand Portage National Monument while you're here. Learn about the partnership between the Grand Portage Anishinaabe and the North West Company that took place during the North American fur trade. Revel in the semi-wilderness surroundings featuring 710 preserved acres that include an historic depot on Lake Superior and the site of Fort Charlotte with the Grand Portage connecting the two.
Another can't-miss? Grand Portage State Park, which boasts High Falls, Minnesota's tallest waterfall. It is simply stunning to behold no matter what the season.
Gunflint Trail
The Gunflint Trail, a 57-mile paved National Scenic Byway, is breathtakingly beautiful as it winds its way through the Superior National Forest at the edge of the Boundary Waters Canoe Area Wilderness (BWCAW) and Canada's Quetico National Park. If your final destination is the BWCAW, the Gunflint Trail is the absolute best way to get there.
For a truly serene wilderness getaway, nothing compares to the Gunflint Trail. As you meander this whimsical wonderland, you'll encounter cozy lodges, restaurants serving hearty fare, and a million hidden gem spots where you can meditate and be amazed by the bounty and beauty of nature.
You won't want to miss this
North Shore residents and visitors don't let a little cold put an end to the party. If you're heading up this winter, be sure to plan to take part in one (or more) of the following fun events:
Hygge Festival. February 4-February 14, 2023. Cook County
Perfect the art of Hygee (pronounced "hoo-gah") a Danish term from the 1800s that emphasizes taking time away from the daily grind to spend time embracing life's simple pleasures. This 10-day festival is the highlight of winter in Cook County offering amazing events like the Grand Marais Pond Hockey Tournament, a Guided Frozen Waterfall Hike, the 8th Annual Vintage Snowmobile Ride plus art activities, trivia contests, live music and much, much more.
Cook County Fireplace Tour. February 1-February 28, 2023, Various Locations
What could be cozier (or more romantic) than snuggling up in front of a roaring fire with the ones you love? The Cook County Fireplace Tour promotes the practice of Hygee with multiple stops at amazing, blazing fireplaces located throughout the county.
Group Sleigh Rides. January through March 2023. Gunflint Lodge & Outfitters
What could be more quintessentially Nordic than a sleigh ride through the Superior National Forest, pulled by a bell-clad team of horses? Sleigh seats 10.
Wilderness Hok Skiing Tour. Every Thursday through March. Caribou Highlands Lodge
Enjoy the scenic beauty of snow-covered lakes and rivers along the North Shore on the Wilderness Hok Skiing Tour. Hok skis are a cross between snowshoes and cross-country skis, with skis that are shorter, thicker and have a skin on the bottom. They're easy to use for everyone from beginners to experts.
What are you waiting for?
With so much to do, see and experience in Cook County this winter, what are you waiting for? Come bask in the quiet of this peaceful winter getaway. For more information about things to do, places to stay and events to experience, come see us at Visit Cook County. We can't wait to see you! 
---