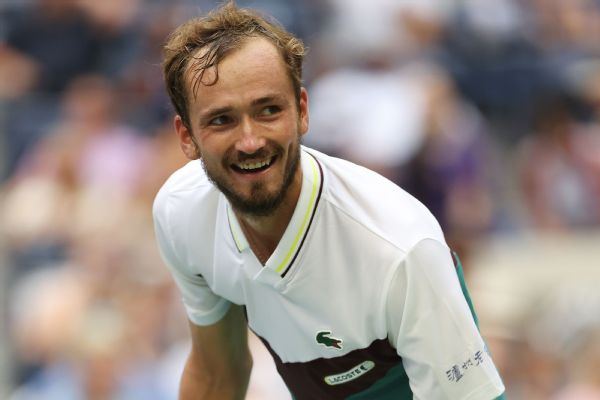 NEW YORK — Daniil Medvedev advanced to the US Open semifinals for the fourth time in five years, overcoming fellow Russian Andrey Rublev and hot, humid conditions Wednesday 6-4, 6-3, 6-4.
Medvedev, the No. 3 seed and 2021 US Open men's champion, appeared to be having breathing problems in the near-95-degree Fahrenheit (35 C) heat, twice calling for a doctor on changeovers.
But it didn't seem to show in his play. Medvedev frequently traded long rallies with Rublev — 34 strokes being the longest — and scrambled for every shot. He ran nearly the length of the court to hit a winner off a drop shot in the final set to earn his first match point. Rublev saved that one and three more in an 18-point final game before finally succumbing on the fifth, with an exhausted forehand into the net.
"The only good thing I see in these conditions is both suffer," a sweat-drenched Medvedev said in his on-court interview in a partially closed Arthur Ashe Stadium. "Honestly at the end of the first set I kind of couldn't see the ball anymore. I kind of played with sensations. You just try to go for it, try to run, try to catch the ball."
For Rublev, the No. 8 seed and such a close friend to Medvedev that he's the godfather to Medvedev's first-born daughter, it marked more Grand Slam frustration: It was his ninth trip to the quarterfinals of a major without advancing to the semis, and the third time he was denied by Medvedev.
Medvedev, who also appeared to have breathing problems in his previous four-set win against Alex De Minaur, at one point in the first set was checked by a doctor with a stethoscope and administered an inhaler. While toweling off sweat midway through the third set, he grumbled to a courtside camera, "One player [is] going to die and they're going to see."
Medvedev, also the runner-up at Flushing Meadows in 2019 and a semifinalist in 2020, will await the winner of the match later Wednesday between top-seeded defending champion Carlos Alcaraz and No. 12 Alexander Zverev, who won a fourth-round matchup Monday against Jannik Sinner that lasted 4 hours, 41 minutes.
The other men's semifinals matchup Friday is already set, with second-seeded Novak Djokovic taking on hard-hitting American Ben Shelton.