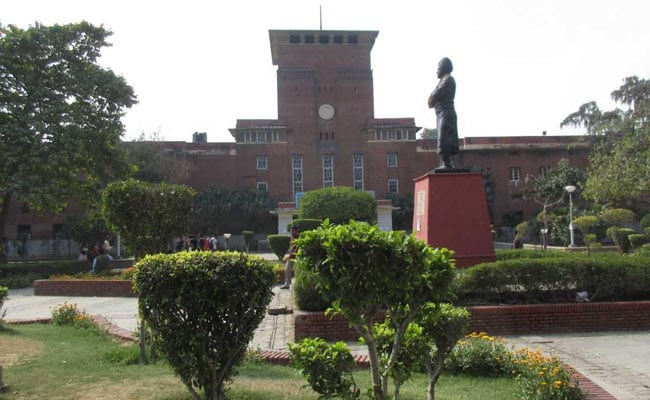 New Delhi:
Mughal Garden in Delhi University's North Campus has been renamed as 'Gautam Buddha Centenary' Garden, an official said on Monday.
The garden does not have a Mughal design, was the rationale given by the university behind the rechristening, which was done on January 27.
The Rashtrapati Bhavan too had on Saturday changed the name of its famed Mughal Gardens to 'Amrit Udyan.' A university official, who did not wish to be named, said that the coinciding of the name change was a matter of chance, and that the varsity had come to the decision after a prolonged discussion with its Garden Committee.
"The competent authority of the University of Delhi has approved the name of the garden (opposite the Vice Regal Lodge) with the statue of Gautam Buddha in its centre as Gautam Buddha Centenary Garden," said Registrar Vikas Gupta, in a notification dated January 27.
The Gautam Buddha statue has been standing in the garden for at least 15 years.
The official said the garden was neither built by the Mughals nor has it a Mughal garden design.
A typical Mughal garden — based on Persian architectural design — features canals and pools along the axes, as well as fountains and waterfalls, and over time also came to incorporate such features as terraces, and water channels lined with concrete or blue tiles.
"The Mughal gardens have specific designs with a pond, running water, and two cones of fountains on either side. Mughal gardens have fruit and flower trees. You can see at the Taj Mahal and other places that the Mughal garden has fruit trees, especially of peach and litchi. None of these features are in this garden," the official told PTI.
The official highlighted that many botanists and people with knowledge of gardens have pointed it out.
Asked about the timing of the name change, the official said the university is going to host a flower show in March so they decided to change the park's name ahead of it.
"We want to prepare brochures and pamphlets for the flower show. The recommendation for the change in name was sent to Vice Chancellor 15 days back and it is a mere coincidence that the Mughal Garden name was also changed," the official added.
The iconic Mughal Gardens at the Rashtrapati Bhavan was renamed Amrit Udyan on Saturday.
The gardens, designed by British architect Edwin Lutyens, are thrown open to the public once a year. People can visit them from January 31 onwards this year.
Located in the sprawling premises of the Rashtrapati Bhavan in Delhi, Mughal Gardens, as it was known till Saturday, is spread over 15 acres and boasts to have over 150 varieties of roses and tulips, Asiatic lilies, daffodils, and other flowers.
(Except for the headline, this story has not been edited by NDTV staff and is published from a syndicated feed.)
Featured Video Of The Day
Dalits Defy 'Ban' On Temple Entry In Tamil Nadu