2022 Wimbledon Champion Elena Rybakina recently denied considering former World No.1 Maria Sharapova her idol after reaching the finals of the ongoing 2023 Australian Open.
Rybakina advanced to her first Australian Open final with a 7-6(4), 6-3 victory over Victoria Azarenka on Thursday, January 26, outplaying the two-time champion in a tight first set before dominating in the second.
The World No. 25 will next face fifth-seeded Aryna Sabalenka. The Belarusian defeated Poland's Magda Linette in a gripping semifinal match at Rod Laver Arena on the same day, 7-6(7-1), 6-2.
Following that, Elena Rybakina was asked in a press conference if she ever idolized Maria Sharapova as she grew up in Russia. The Russian-born Kazakh responded in the negative, saying she didn't have any idols in women's tennis and that her idol growing up was Roger Federer.
"I would say I didn't really have an idol when I was younger. I was just playing tennis after school. I didn't have much time to actually watch tennis," Elena Rybakina said.
"The idol was for me, like, and still Roger Federer. From the woman's side, I would say that I like just to watch, if I had the chance, like different players. I won't say from the woman's I had like an idol," she added.
---
"It's going to be tough battle" – Elena Rybakina on facing Aryna Sabalenka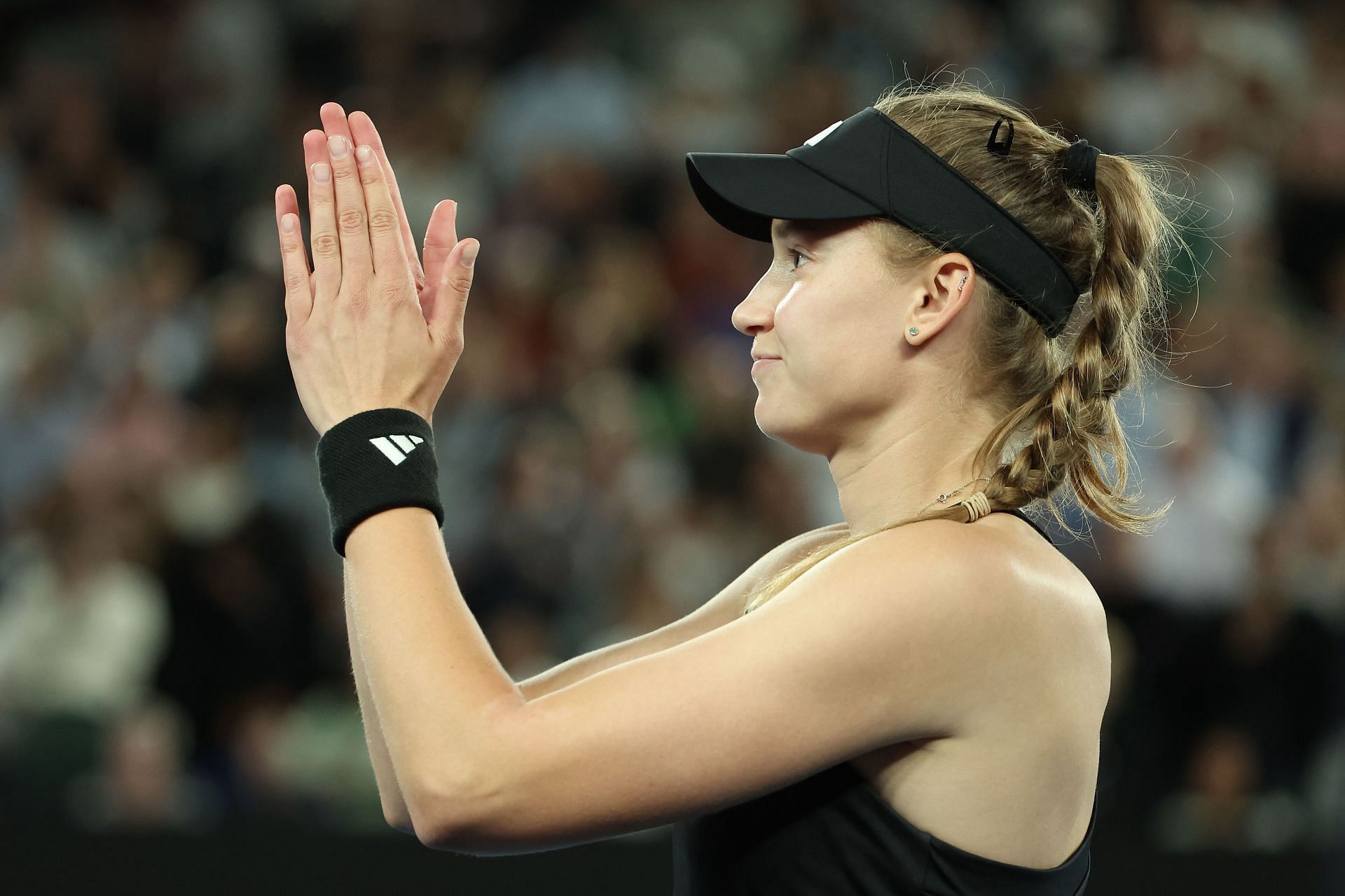 Speaking about her encounter with Aryna Sabalenka in the finals, Elena Rybakina said that the match will be "tough" and will feature "longer rallies than usual."
"Yeah, it's going to be tough battle. I think as today maybe I will not have to serve that big, that fast, so it doesn't really matter the speed. It's important to have a good placement on the serve," Rybakina said.
"In these conditions, to serve full, full power, it's not easy. The ball is not really going. Yeah, the same on the baseline. Just to play more deeper and do the same thing, try to come forward, just to expect maybe longer rallies than usual," she added.
The 23-year-old then discussed reaching the finals, saying she was both "happy" and "tired." She has, however, pledged to play her best tennis when she takes to the court in the hopes of winning her first Australian Open title and her second Major overall.
"Happy. At the same time tired. But I think it was really good match. Different conditions today compared to other matches I played. Yeah, super happy to be in the final and ready to give everything I have left in one day," Rybakina said.




Article SourceMykhel