England vs South Africa – Report – Rugby World Cup 2023 – 22 Oct, 2023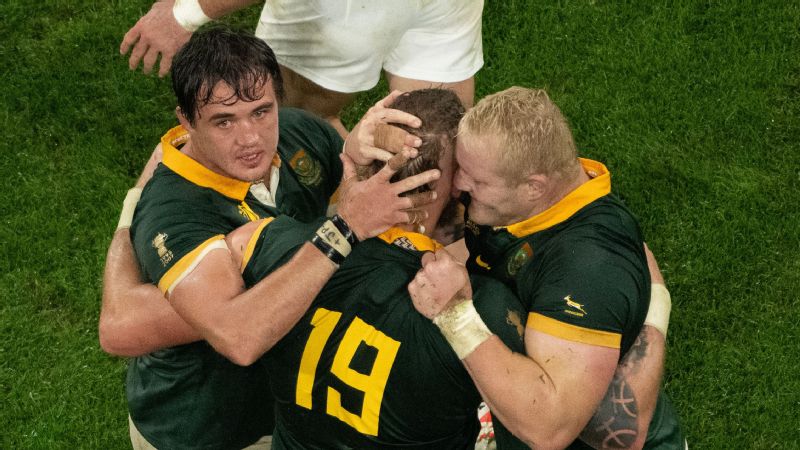 Replacement flyhalf Handre Pollard kicked a last-gasp penalty as South Africa somehow found a way to get past a dominant England on Saturday and claim a 16-15 victory that sent them into a World Cup final against fellow triple champions New Zealand.
The defending champions looked on the verge of defeat as England's kicking game kept them pegged back in their own half on a rainy Paris night, but they hit back with a try by RG Snyman before replacement Pollard landed a penalty from the halfway line to snatch victory.
The two super powers of the sport will meet in the final for the second time, after South Africa triumphed on home soil in 1995 in their first appearance at the tournament.
For most of the match, however, it looked as if it would be 2019 runners-up England returning to the final. On a rainy Paris night, England played a perfect tactical game, kicking accurately, chasing hard and forcing South Africa into errors.
Coach Steve Borthwick had promised he had a plan to unsettle the world champions but there was nothing radical about their approach as they kicked relentlessly in the rain and outplayed the Springboks in the air.
Captain Owen Farrell said in a post-match interview "how unbelievably proud" he is of his side in the competition overall. "Nothing much about the game, just about how unbelievably proud I am of this group over the last five months together," he said. "We've had everything thrown at us and it's been a proper rollercoaster, I'm glad we've built to where we are now. I'm disappointed we haven't got a crack at the big one next week but I'm massively proud of everyone and I hope everyone back home is too.
"We came up with a plan during the week and the weather conditions played a part in it. I just thought we started the game really well, we shocked them a bit at times, they made a few early changes to what they were doing, but credit to them for fighting their way back into it and finding a way to win."
When asked whether he is proud to be an Englishman, Farrell said: "Massively yeah, and everything that has gone with it, how we've built as a group over the last five months and over this World Cup, and I think that performance shows how proud we are to be English and wear the shirt. I think we've made a start of where we want go going forward."
England forced South Africa into the sort of errors they avoided in their epic quarterfinal win over France.
England's control and accurate pressure earned Owen Farrell two early penalty opportunities, both of which he slotted for a 6-0 lead.
After 15 minutes South Africa won a kickable penalty but, lacking faith in Manie Libbok, they kicked for the corner and were turned over and they did the same a minute later, and lost possession again.
Libbok did slot one over but he looked off the pace and was taken off after 31 minutes, replaced by Pollard, who soon landed a penalty.
England, however, maintained their disciplined approach, gaining ground from their deep kicking, and another Farrell penalty gave them a deserved 12-6 halftime lead.
There were more changes for South Africa in the first five minutes of the second half as Faf de Klerk and Willie Le Roux came into the backline and they lost inspirational lock Eben Etzebeth.
The champions still struggled to get any sort of continuity and England stretched their lead to 15-6 with a brilliant 47- metre Farrell drop goal.
With half an hour to go all the South African replacements were on as their coaches desperately sought to find a foothold, though England were to pay a heavy price for their failure to turn their dominance into any more points.
The Springboks had barely been our of their half before a superb touchfinder by Pollard enabled Snyman to charge over for the first try of the match.
Pollard converted to close to within two points 10 minutes from time and they were awarded a scrum penalty on halfway with three minutes to go.
Pollard, called up to the squad midway through the tournament, slotted it with the minimum of fuss.
It was the first time South Africa had led and they then defended England's final assaults until a knock-on ended the challenge.