FIA 'revisiting' Lewis Hamilton track-crossing incident in Qatar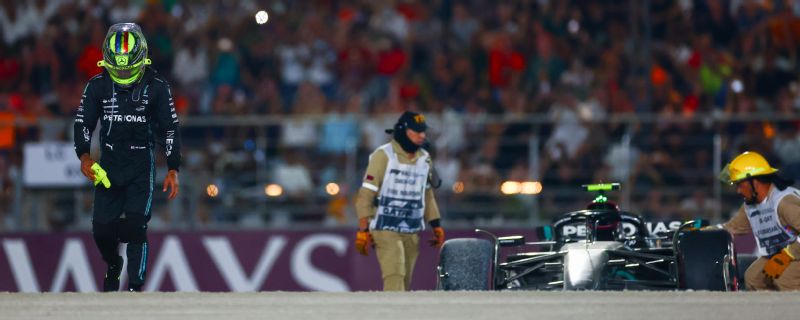 Formula One's governing body is reviewing Lewis Hamilton's punishment for crossing a live track without permission at last weekend's Qatar Grand Prix amid concern the penalty was not tough enough.
The seven-times world champion collided with Mercedes team mate George Russell at the first corner at Lusail, abandoning his car in the gravel and crossing the track to return to the pit lane.
The Briton was given a reprimand and fined 50,000 euros ($52,545), with 25,000 suspended for the rest of the season on condition he did not do it again.
The governing body said on Sunday it was 'revisiting' the incident.
"The FIA notes that Lewis was apologetic during the subsequent stewards hearing into the incident and acknowledged that the crossing was a serious safety breach," said a statement.
"However, in view of his role model status, the FIA is concerned about the impression his actions may have created on younger drivers."
The stewards report at the time said Hamilton had reached the inside edge of the track just seconds before Russell arrived at high speed after exiting the pits.
"During the hearing the driver of Car 44 (Hamilton) was very apologetic and realized that the situation could have been very dangerous for him as well as the drivers approaching," they added.
The governing body is likely to want to set clearer guidelines and more stringent penalties for such a breach in future.
The move also follows an incident at the karting world championships in Italy last weekend where Britain's Joe Turney suffered leg injuries after pushing his kart back on track and being struck by a rival.
Crossing a live track while cars are racing at speed is highly dangerous.
In 1977 British Formula One driver Tom Pryce died during the South African Grand Prix at Kyalami after his car struck and killed an unsighted fire marshal who was crossing the track without permission.