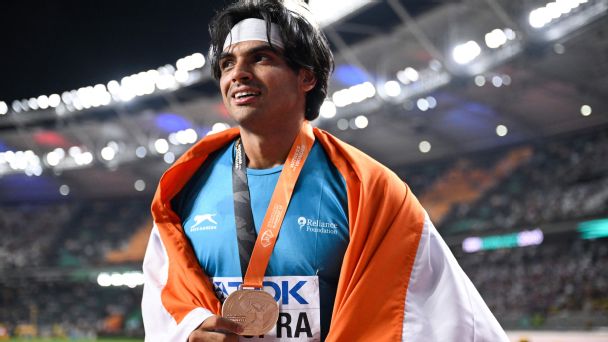 Three days ago, Neeraj Chopra became a world champion. Now he's back on the road, as he enters the Zurich Diamond League. Neeraj has already qualifed for the Diamond League final to be held in Eugene next month, having won the events in Doha and Lausanne earlier this year.
Chopra won gold at the 2023 IAAF World Athletics Championships with a best throw of 88.17m. The defending Olympic champion became the first Indian to win a gold at the Worlds, a year after he'd become the first Indian to win silver in the competition. World championship silver medalist Arshad Nadeem from Pakistan won't compete in Zurich on Thursday, but the event features Jakub Vadlejch, Anderson Peters and Julian Weber, who are expected to provide Chopra with stiff competition.
This will be Chopra's fourth event of the year, and the first time he's done back-to-back events. He had taken a gap of at least a month between each of his previous three competitions this year. The 90m mark remains elusive for a man who now won every championship there is to win in the sport, and speaking after jhis world championship victory, Chopra said that he hoped the day where he broke the mark would come soon.
Sreeshankar Murali will also be in action in the long jump, and will look to put behind the disappointment of not even making the final of the World Championships last week. He managed a best jump of only 7.74m, which was well below his best, and finished 22nd out of 37 athletes in the qualification round.
It is a strong long jump field in Zurich as well, led by Olympic and world champion Miltiadis Tentoglou from Greece. Jamaicans Tajay Gayle and Carey McLeod alongwith Switzerland's Simon Ehammer will also fancy their chances of amassing points on the road to the Diamond League final.
(Please wait a moment for the blog to load. If it doesn't, please click here.)