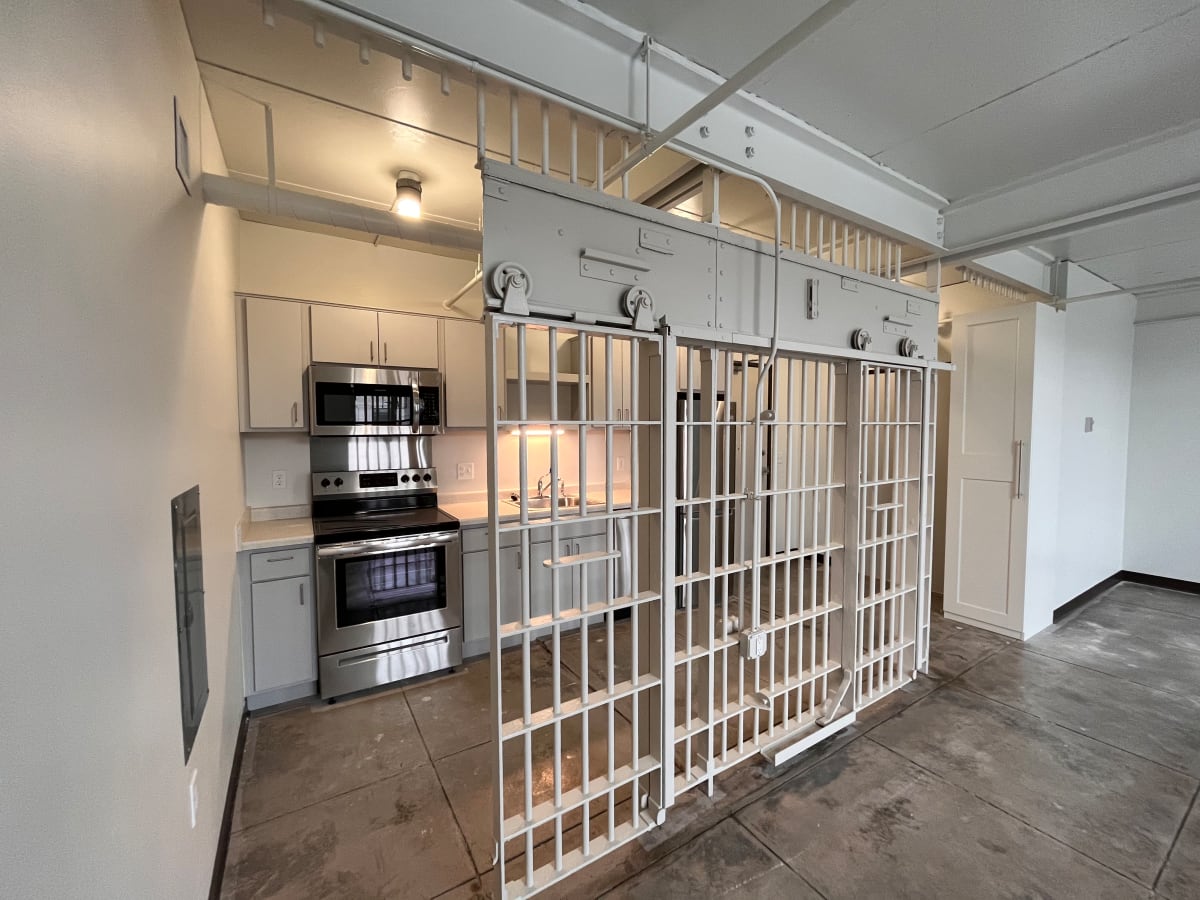 What was once the St. Louis County Jail in Duluth is now a mixed-income apartment building – with some of the building's distinctive original features retained.
Located at 521 W. 2nd St., the building has kept much of its historic touch, with jail cells, bars on windows, and steel walls retained in the historic space. 
According to Leijona's website, the building was constructed in 1924 and has since been registered on the National Register of Historic places. 
"While modernized and transformed to fit its new role, you can still find original architectural elements from the building's jailhouse days at every turn: sculptured granite details, decorative plaster ceilings, terrazzo floors, stone trim — and just a few steel bars and cell doors," its website states.
Leijona Apartments in Duluth
Courtesy of Leijona Apartments
Named Leijona — Finnish for "lion" — some of the residential living is reserved for income-qualified tenants earning less than 60-70% of the area median income.
It offers 33 units, ranging from studios to two-bedrooms. Monthly rent ranges from $895-$1,915. 
The Duluth News Tribune reports a ribbon-cutting ceremony was held on Friday as a grand opening for tenants to start applying. Sen. Tina Smith was in attendance.
Smith supported the redevelopment of a since-abandoned building to create more housing opportunities. 
"Repurposing historic, abandoned buildings like the former St. Louis County Jail into mixed-income housing is a great example of the innovative ways we can boost the supply of housing," she said.
Buying or selling? Find a realtor using the BMTN directory
The designer of the jail was architect Daniel Burnham, who had a major influence on American urban planning, notably his involvement in the development of the skyscraper and his leadership at the World's Columbian Exposition in 1893, according to Britannica.
The building once held 93 jail cells and was in operation from 1924-1985, according to historical records. A new jail was built and opened off of Haines Road in 1994.