Hardik Pandya suffers injury scare against Bangladesh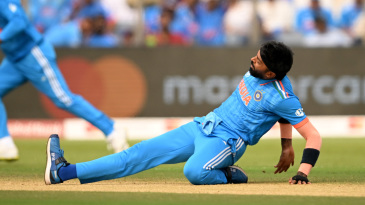 India had a significant injury scare when Hardik Pandya limped off the field with an injured left ankle during their fourth league match of the World Cup against Bangladesh in Pune. Bowling his first over – the ninth of the innings – Pandya appeared to twist his ankle in his follow-through, and it was announced later on the broadcast that he would not return to the field for the remainder of the innings.
The physio ran out immediately to attend to Pandya and worked on his ankle for several minutes. He then tried to continue his over but was in too much pain to do so. At 2.59pm, an hour into the game, Pandya walked off to get further treatment and Virat Kohli bowled the three remaining deliveries in the over. The BCCI later said that Pandya would be taken for scans.
Apart from Jasprit Bumrah and Kuldeep Yadav, Pandya is arguably the most irreplaceable player in the India squad because of the all-round role he performs. He is good enough to play as a specialist batter but his bowling provides India the sixth bowler they badly need. Pandya had bowled 16 overs in India's first three World Cup matches and taken five wickets.
Shardul Thakur, more of a specialist fast bowler who can bat, has bowled only eight overs in two matches, and Rohit Sharma has preferred to go to Pandya before Thakur in this World Cup so far.
India have been careful with how much they bowl Pandya leading into the World Cup precisely because of the balance he brings to the team. If he were to miss a match, India do not have a like-for-like replacement. Either Shardul Thakur bats at No. 7 and they replace Pandya's bowling or they bring in an extra batter and rely on five bowlers to bowl 10 overs each.
With three wins in three games, India are one of two teams still unbeaten in this World Cup. After Bangladesh, their next fixture is in Dharamsala on Sunday against New Zealand, who are the only other unbeaten team in the tournament with four wins in four games.