India vs New Zealand, ICC Cricket World Cup 2023, 21st Match Match Details, Schedule, Summary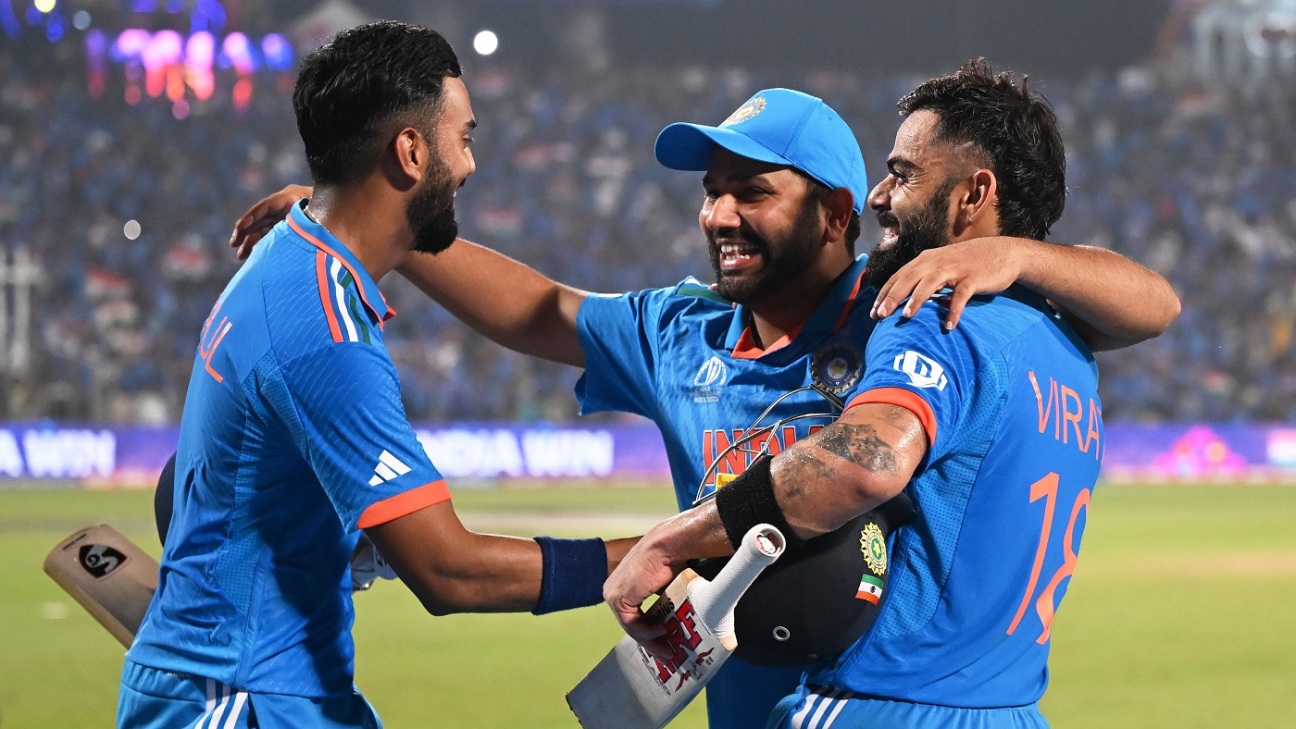 Such is Hardik's quality that India need to make two changes. Suryakumar for Hardik was the simple option, but to strengthen their bowling, India have dropped Shardul and brought in Md Shami. That means India have just five bowlers, something they were trying to avoid as a template. No need for New Zealand to tweak anything.
India XI: Rohit, Gill, Kohli, Iyer, Rahul, Suryakumar, Jadeja, Shami, Kuldeep, Siraj, Bumrah.
New Zealand XI: Conway, Young, Ravindra, Latham, Mitchell, Phillips, Chapman, Santner, Henry, Ferguson, Boult.
Akhil Vadiyala: "Hardik's injury mid-tournament is a blessing in disguise for India. It gives a chance for the other players to have game time vs a big opponent where teams normally play their best XI. Being at the top of the table make these forced changes affordable. All in all, it makes all players ready for the knockout games."
1.32pm, toss: India win the toss and bowl.
Rohit: "No particular reason. In training yesterday we thought dew came in early. Good pitch, shouldn't change too much. (Unbeaten so far) Important to keep momentum going and forget the past. We know the nature of the WC – all teams can beat anyone. (Dharamsala conditions) This is one place everyone wants to come and play. Pictureseque. (Injury issues) No Hardik. Shardul also misses out. Shami and Suryakumar are in.
Latham: "We would've bowled first as well due to the dew. (Unbeaten run) We have built a bit of momentum and we have tried to apply our game plan. Want to adapt as quick as we can to these new conditions. Can't afford to put guard down, anyone can beat anyone. (Combination) Same team."
1.28pm The two captains are in the middle for the toss. Teams batting first have won 2 of the 3 games here at the 2023 WC. The average first innings winning score in those two games has been 305.
Pitch report: There are some murmurs that the pitch has unusually less grass. But that shouldn't take much away from the usual characteristics of the surface – lots and lots of runs. Spinners will get some assistance but the short boundaries and altitude here make them a batter's favourite. Cloudy day mostly, but a few periods of sun and clear skies expected.
Visuals from the ground: Williamson is not fit for the game but that doesn't stop him from leading the team huddle. Rohit, Gill and Kohli loosening their hamstrings and Jadeja with his sprints. Their huddle has also taken place, and this time it is Gill who is leading the conversation. Looks like Dravid enjoyed what he said, because he receives a pat on the back at the end of it.
1.01pm Thank you, Karthik. Hello everyone – and what do I see from the ground? Md Shami is warming up! Does he come in? There's also the question of whether SKY or Kishan get a game. Here's Shane Bond and Cheteshwar Pujara on that debate.
Shiv: "This pitch is pace friendly, playing Shami will be a great choice and makes lot of sense. Except the first match, India has shown the strength in their batting line-up. They should play Shami.."
1.00pm Half an hour to go for the toss now. Please welcome Sreshth Shah into the commentary hot seat.
12.45pm We all remember what happened the last time these two teams met in an ODI World Cup game. Matt Henry was New Zealand's gamechanger on that day, and he remains a vital, if underappreciated member of their core group, as Andrew Fidel Fernando notes here.
Meanwhile, the big question for India is how they'll cope with Pandya's absence. The tricky thing for them is retaining batting depth while having six bowling options. Is that even possible? Sidharth Monga ponders their options.
RajatMaheshwari: "When India played against NZ last time at this ground back in 2016, Hardik was the man of the match. Was a one-sided match that. Look forward to this one. I think Shami should come in. He could run in and just use the conditions well :)"
Hassan Imtiaz: "We might have won in 2019 with NZ if MSD have survived with that direct through before he got run out. Now eagerly waiting for for Win today with Kohli's 49th Ton."
Rajith: "Pitch wont be like expected today, it will be spin friendly and may prompt india to play 3 spinners"
12.30pm Afternoon, everyone. We've had an incredibly competitive World Cup so far, and after 20 matches there remain no winless teams. There are, however, two teams that are yet to lose a game, and today's game in Dharamsala pits them against each other. India have looked near-unbeatable so far in their home conditions, but who are now without the player who, like the rug in The Big Lebowski, ties everything together and makes them they force they are. It just so happens that they're without Hardik Pandya, their gun allrounder, when there about to face their biggest bogey team, New Zealand. You know all about the recent history between these sides at ICC events, and while today's game isn't as high-stakes as those other recent meetings, the ramifications of this result may be felt later in this tournament. The toss is coming up in an hour's time, so make yourselves comfortable and get ready for a glorious day of cricket.
In case you're worried about the weather, we're hearing it's bright and sunny in Dharamsala, though it's only 18 degrees Celsius at the moment.
Mustafa Moudi: "My Gut feeling says this match will decide who will win this World Cup, but in a different way. My Prediction is that the loser (not the winner) of this match should win this World Cup !!"
Kris: "OK. I am going to call it first. Ashwin for Hardik and Shami for Shardul" — What happens to the batting depth then?
Hannah Bracken: "Very excited for this game but, as an NZ fan, I'm worried if we beat India today, it will be the loss they need to wake up and galvanize them further and make them unbeatable in the playoffs."