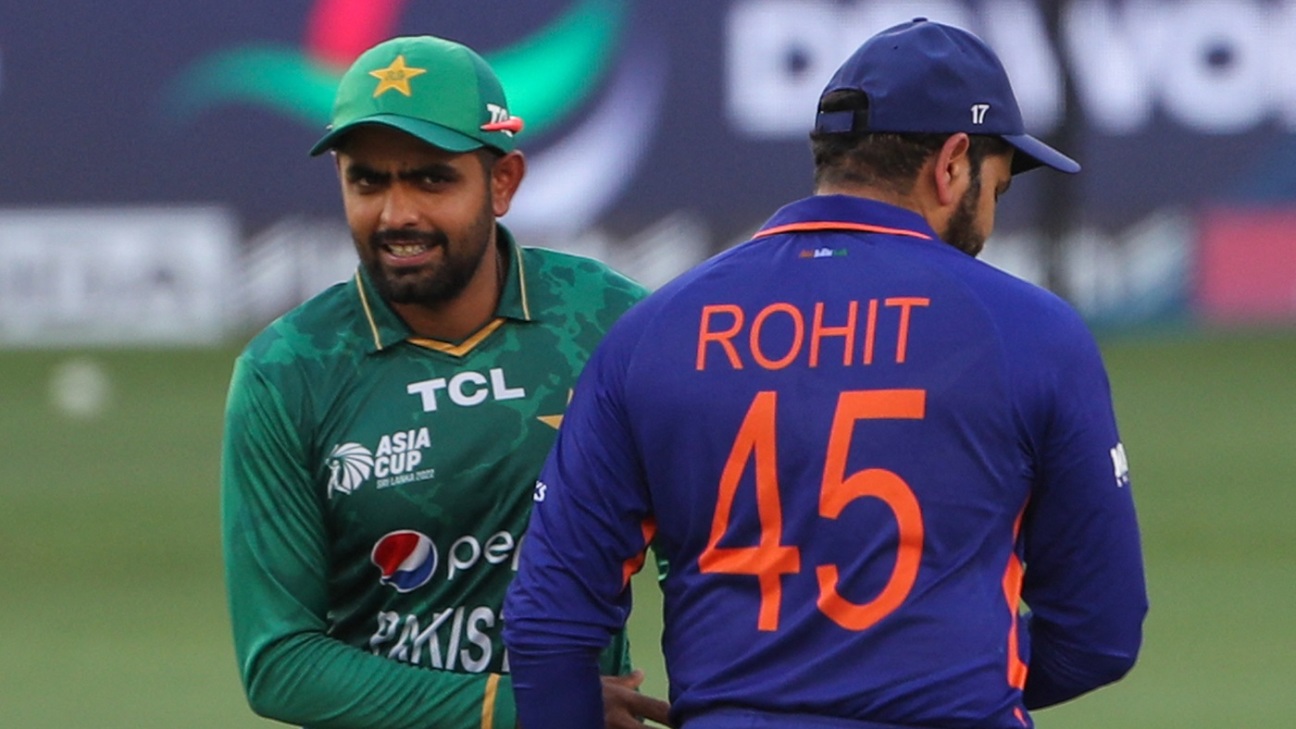 2.05pm Only a very light drizzle right now, and the covers are coming off.
2pm This match is not being played in Pakistan, but comments/feedback from all the fans from Pakistan tells me how excited everyone is there. For our readers, who don't have access to that, here's Urooj Mumtaz on the buzz in Pakistan (it's in Urdu/Hindi).
ShahSafeer: "Neither toss nor conditions, it would either Shaheen's spell or Virat's masterclass decide the fate this clasico"
1.55pm Technically, Pakistan are the hosts but most games of this Asia Cup will be played in Sri Lanka. But Babar is banking on "some kind of home advantage" in today's game. Read Danyal Rasool's copy to find out why.
Ibrahim: ""Sorry Hamza, I don't agree with you. After looking at the Pakistani squad and as Rohit mentioned, the gaps seem to be filled, we(pakistanis) are quite confident this time.""
Mohanwick: "Is it advantage India, if it is a rain reduced game?" — Don't think any team has any real advantage. One of the reasons behind that is India and Pakistan rarely play against each other these days: they are face-to-face in an ODI after a gap of four years. More on this, and their rivalry, in our match preview.
1.45pm Wasim Jaffer feels that Shaheen Afridi vs India's top order will define this contest, and here's Sanjay Manjrekar on how India can tackle Shaheen and Co.
Hamza: "Hello everyone from Pakistan. One moment, i want this match to start asap. Next moment, i feel like it gets delayed as much as possible. Its a combination of Excitement and Fear." — A friend just pinged me the same thing!
Kannadachi : "@ Andrew Fidel Fernando – let us rank the ground staff " — Will pass this on to him for his next Briefing.
1.40pm Just an FYI that the commentary for this match is also available in Hindi and in Tamil.
Zunaib: "Any idea, whether toss will decide who will win? I mean bat first or ball first which one is favourable?" — Given the conditions, bowling first will not be a bad idea. Also, it's better to chase if there's rain around.
1.30pm While we wait for further updates, let's dive into the buffet we have got for you guys. First up is Fidel, on how abuzz Kandy, the home to the Palace of the last King of the island, is to host the cricketing kings of India and Pakistan.
TahirJagirani: "being a mature follower of cricinfo.com from Pakistan I thank you for weather updates, can you tell us that who is VC of India? bcoz i can't see any name marked with VC in india's Squad." — It's Hardik Pandya.
1.15pm Not a great news: The covers are coming on because of a verrrryyyy light drizzle. Both teams, meanwhile, have reached the stadium.
1.10pm Another update, from Andrew Fidel Fernando: "From what I can tell, India and Pakistan will complete a match today, even if it is rain-reduced. It rarely rains all day in Pallekele at this time of year, but showers are frequent. However, Sri Lankan ground staff are almost indisputably the best in the world, and as such tend to ensure that short bursts of rain take minimal amounts of time out of the game."
12.45pm Hello, everyone. We are in early. Well, it is India vs Pakistan, after all. The weather in Pallekele is in question, so we've saved you all the Google searches and here's a quick weather update: It is overcast in Pallekele, as it has been for much of the last three days. But it is not raining. There were brief spells of drizzle in the morning – one of them forced the ground to be covered at around 10.35am. But from about 10.45am, covers have been off and it has been sunny. Grey clouds approaching, though.