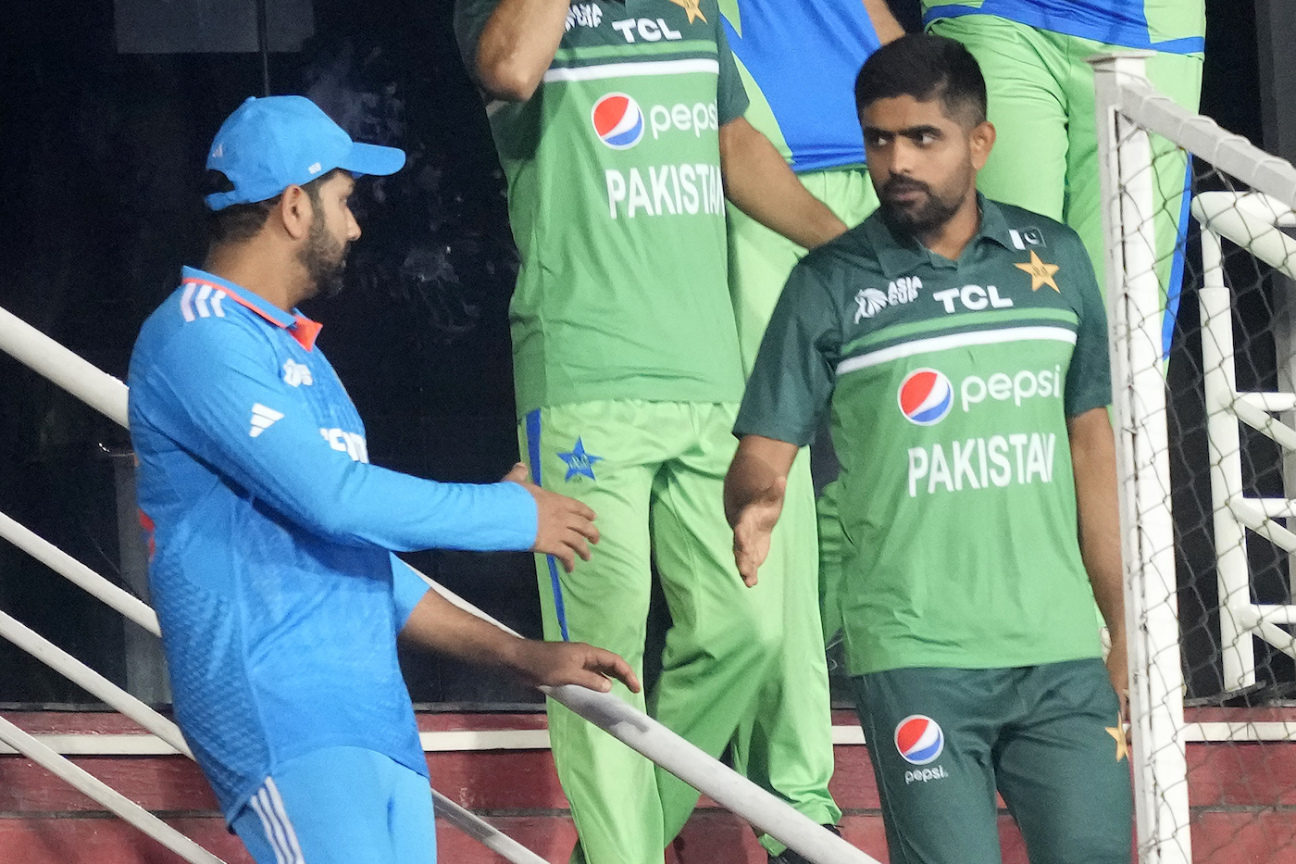 2.40pm Thanks, Sreshth, and a big hello to everyone. Fingers crossed that the weather remains clear through this super Sunday.
India have a forced change: Rohit says Iyer picked up a spasm in the back very late. Now it all makes sense why KL Rahul ran in to do drills late before toss. Seems like Rahul was not going to play but Iyer's late back spasm has given him an outside entry into the XI. On that note, here's me taking a break and now welcoming Karthik Krishnaswamy into the hot seat.
2.30pm Pakistan win the toss and bowl. Babar says, "moisture is there. High-intensity match yes, but we are going match-to-match. We are ticking in all departments. Same team." Rohit Sharma's response makes it seem like a toss wasn't needed: "We'd have batted first. Yes there will be challenge facing their bowlers, and we'll have to put runs on the board. Every game from here on is important for us. Need to focus on one things at a time. Bumrah is back, KL Rahul replaces Iyer."
Pitch report: Pitch has been watered yesterday, and the grass has been rolled in, definitely greener than yesterday's game. "Moisture underneath the grass will give bowlers something," Waqar Younis says.
2.15pm What's interesting is that Ishan Kishan is warming up doing sprints, while KL Rahul is doing some drills with the gloves on. Is there a chance that both feature and someone like Shreyas Iyer sits out? Or Shubman Gill?! That will be bold.
Naseem Shah today: "As the expectations rise, you need to work even harder, because the pressure goes up. We toured Sri Lanka recently and played a series against Afghanistan here, so we are used to the conditions. The whole world will watch this match, and people call it the biggest match. Everyone has a different way of dealing with the pressure, and the team that does this better will perform better. Bowling is about partnerships. Shaheen tries to swing it at the start, and I make an effort to contain and bowl good areas. It's a team game. One bowler attacks, the other tries not to give away runs, and this is how the three of us build our partnerships as bowlers."
In the USA, ESPN+ is streaming the match live, with commentary in English and Hindi.
2.10pm The India camp look relaxed in the warm-up, with the widest smiles actually being worn by Dravid and Rohit. As some grey clouds roll in, India get into a huddle with the captain leading the talk. Kuldeep Yadav, meanwhile, has shared an interesting tidbit on air: "[what has changed for him since 2019] I tried to change my [run-up] angle. Before it was a bit wide, now it's straighter, and I'm more aggressive, just thinking about bowling a good length."
2pm This is a big match because even one loss in the Super 4s can send you on the brink of "must-win territory", and with in-form Sri Lanka set to face both these sides next week, the two points at stake today are in high demand. There is also a small chance that today's fixture is the last India v Pakistan fixture at the 2023 Asia Cup because Sri Lanka are strong contenders to be a finalist and history tells us that India and Pakistan have never met at Asia Cup finals.
Reminder … you can follow ESPNcricinfo's commentary on Hindi and Tamil too.
1.50pm We have Sidharth Monga on the Live Blog all day, so keep hopping over to catch his thoughts as the game progresses. He reminds us that Pakistan have named their XI already, and Faheem Ashraf retains his place. India, though, have two decisions to make – does KL find a place straightaway? And who does new dad Bumrah come in for? Uthappa has an answer to both those questions, but India haven't revealed their cards yet. This past week, Rahul has been busy in the nets batting, but not so much keeping (almost none, in fact).
Nisar: "Whoever win. We need full game. Incomplete game put everyone in chaos. "
Usama Sani : "Considering all what's said and done, I am pretty much sure Pakistan hold a psychological edge over their arch rivals in today's clash, especially after what Shaheen and co. did to indian top order in Pallekelle. That said, IndvPak never cease to throw surprises so fingers crossed. Let cricket be the winner today"
Deepak Malhotra: "India should be bold today. Shardul's batting might not be good enough against pak attack. Better to play shami , siraj ,bumrah and test pak batting. "
Live pictures: The teams have arrived, and Pakistan are first to make it in. Shaheen first to leave the team bus, followed by Rizwan and Babar, all looking zoned in. Iftikhar and Naseem in a bubblier mood. Pakistan have been in top form at the Asia Cup, but if there's any weakness, it's their "fifth and sixth bowling options", according to Urooj Mumtaz in our preview show. Fellow expert Robin Uthappa also felt Pakistan's spin is their weak link that India can exploit.
1.30pm Eight days later, we meet again for the big boss of all rivalries, this time looking upwards and holding our collective breath that India v Pakistan is a full game.
Last time around, the game was called off at a tantalising stage, leaving us picturing our very own versions of how the game would've played out. Now that we gather again, fans and officials are both desperate to see a full-on contest, that over the last week, this fixture has received an added insurance of a reserve day. Some people are not happy of this 'preferential treatment', some people say they understand the financial importance of this fixture to the ACC, and the rest are somewhere in the middle.
Anyhoo, all that talk can now pause for a second, because it is dry and sunny right now in Colombo. However, there is forecast of rain later, so cross your fingers and your toes, and get strapped right in. Welcoming you is Sreshth Shah, and we've got Karthik Krishnaswamy joining us very shortly. In-depth build-up coming up with two very important points at stake.