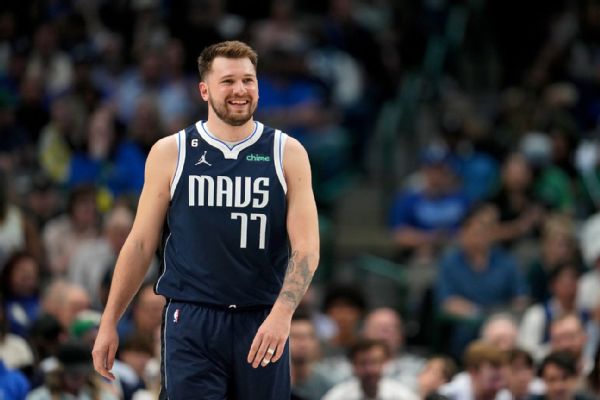 MADRID — Luka Doncic is going back to where he got his start — for one game.
The NBA announced Wednesday that Doncic and the Dallas Mavericks will play a preseason game in October against reigning EuroLeague champion Real Madrid in Spain. The game will be the NBA's eighth in the Spanish capital and 20th in Spain, and it comes 35 years after an NBA team first played in the country in 1988.
Doncic, a four-time NBA All-Star and All-NBA first-team member, was just 13 when he joined Real Madrid, and he went on to become the youngest EuroLeague and EuroLeague Final Four MVP when he led Real Madrid to the 2018 title at age 19.
Real Madrid features Spanish legend and former NBA draftee Sergio Llull as well as former NBA players Rudy Fernández, Mario Hezonja, Džanan Musa and Sergio Rodríguez. The team is the winningest in EuroLeague history with 11 titles.
The matchup marks the first preseason NBA game in Madrid since 2016, when Doncic and Real Madrid hosted the Oklahoma City Thunder. Before the game in Spain, the Mavericks will play two preseason games against the Minnesota Timberwolves, Oct. 5 and 7, as part of the NBA Abu Dhabi Games 2023.
"Bringing the live NBA experience directly to our passionate international fans is an important part of our year-round efforts to grow basketball and the NBA around the world," Mark Tatum, NBA deputy commissioner and chief operating officer, said in a release. "We're excited for the Mavericks to play Real Madrid and look forward to engaging with fans from Spain and across Europe around this historic matchup."
Real Madrid ambassador Felipe Reyes said that facing an NBA team "is always special" but that it's even more so with "Real Madrid legend" Doncic coming to town.
The Boston Celtics were the first NBA team to play in Spain, facing the men's national team from what was then Yugoslavia and Real Madrid in 1988.