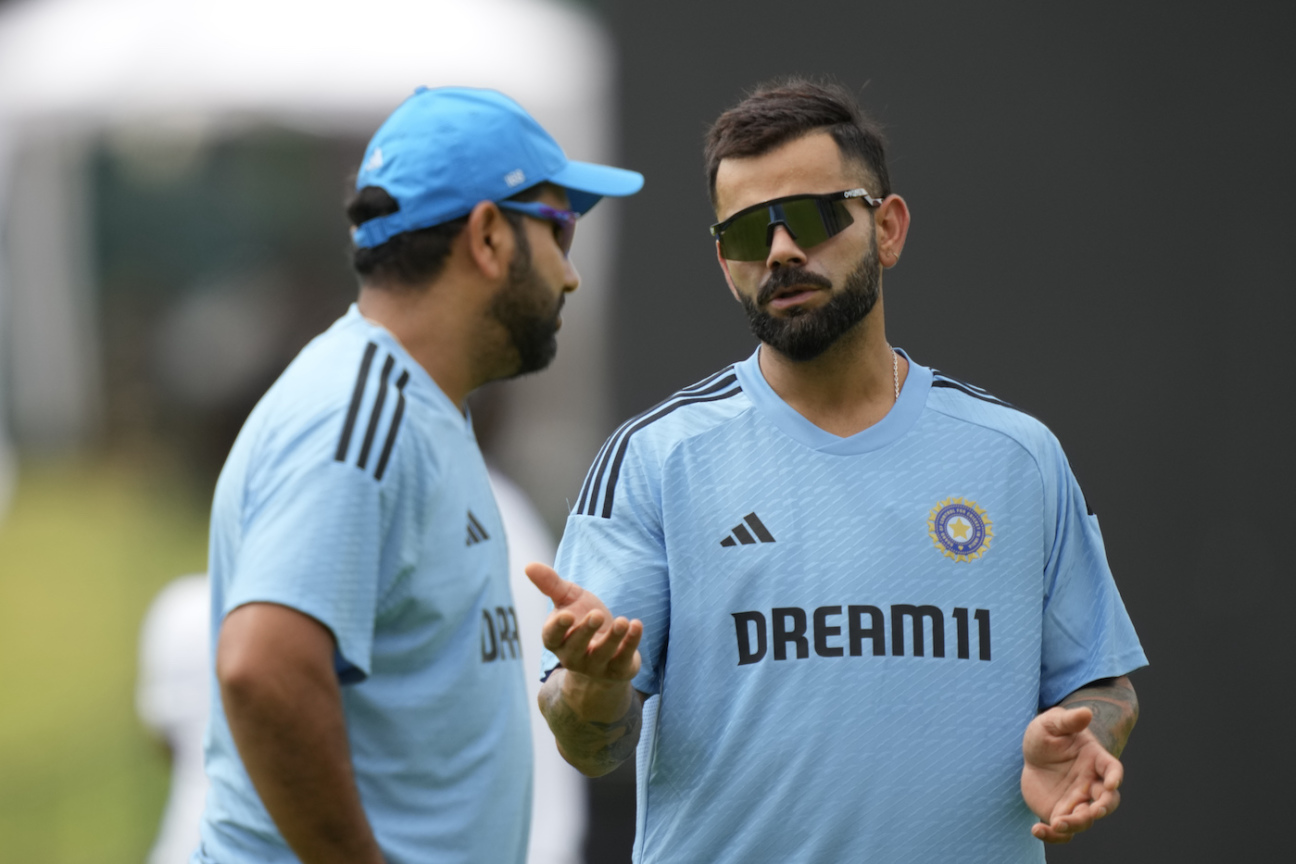 2.55pm Thanks, KK. Hello, everyone. Time for the national anthems. This is a chance for India's attack to get a solid workout after rain had denied them a crack at Pakistan's line-up on Saturday.
Avinash: "Was KL Rahul available for selection today?" — Nope, he could be available for the Super Fours round
Samraat: "Rohit Paudel walking with his idol Rohit Sharma for a toss was pure fanboy moment for him. Nepali skipper has been short of runs. Maybe today is the day where he can impress his idol with batting."
2.50pm Right, the weather is looking clear for now, and it looks like we'll start on time. Here's Deivarayan Muthu, my co-commentator today, to bring you the opening exchanges of this game.
2.39pm Now the covers are going off.
Praveen : "Do we really need no.8 batting depth (it's not great anyway? for today's match?" — I see your point, but India would want to play the combination they're going to use at the World Cup, and give those players as much game time as possible to get used to their roles.
Bodh Acharya: "We were dreaming about playing against India when Nepal was playing division 6 in Bermuda in 2013 and after 10 years they achieved it. Forget about win or lose as a supporter of Nepali cricket we already won. Thank you Asia Cup."
Sachin: "With bowling first India could have gone with Shami, Siraj, Krishna " — Thing is that playing those three plus Kuldeep would leave India with a really long tail.
2.37pm The pitch, the square and large parts of the outfield are now under covers.
2.30pm Toss time. It's Javagal Srinath's 250th ODI as match referee, by the way.
Rohit Sharma wins the toss, and India will bowl first. As he begins to speak, it begins to drizzle. He's not sure we'll have a full game today, so he wants his bowlers to get some game time. Just the one, expected, change: Mohammed Shami comes in for Bumrah.
Rohit Paudel said he would have liked to bowl first too. "I think today is the biggest day for Nepal cricket, a great opportunity to showcase our skills in front of the cricket world." One change for Nepal too: Bhim Sharki replaces Aarif Sheikh.
You can also watch the preview show in Hindi.
fin: "Absolutely amazing that the Asia cup simply *has* to get moved to a tropical country in monsoon season, surely this can't be in the best interests of the game? Again politics proves more important than cricket"
2.25pm We're using the same pitch on which India played Pakistan the other day. Matthew Hayden suggests in his pitch report that there could be a bit of up-and-down bounce on offer today.
In the USA, you can watch the match LIVE on ESPN+ in English and in Hindi.
2.15pm The sun is out in Pallekele for the moment, and there are no covers on. Let's hope it stays this way.
Animesh Kherwar: "As a Nepali, I really don't want this match to be washed out. Our players needed these exposure. I would be happier with Nepal playing and losing [badly] instead of getting 1 point due to washout."
2.05pm Right. We're just under half an hour from the (scheduled) toss in Pallekele, hoping the weather will allow us to witness some cricket. India will be without Jasprit Bumrah, who has flown home for personal reasons, and will be eager for their bowlers to get their overs in after the washout of the second innings in their match against Pakistan. Nepal, meanwhile, will hope they can put behind them the drubbing they suffered against Pakistan, and show a little more stickability with the bat in particular.
And when we do have the toss, we'll almost certainly witness the first instance of Rohits captaining both teams in an international game.
The live commentary for the match is also available in Hindi and in Tamil.
Pavin: "Gill had a tremendous streak up to the end of the IPL, but of late he is into slow starts and eventually falling trying to up his scoring rate. His strike rotation has dropped down considerably. A serious chink in India's opening armor that needs to be corrected asap." — Reading comments like this, you wouldn't know that he averages above 60 in ODIs and made 85 in his last game before this tournament!
Soham: "What if this game is also ruined by rain? Will that lead to a dramatic India exit and Nepal qualifies?" — A washout will mean India qualify alongside Pakistan. This is Nepal's last group game, so they have to win to have any chance.
1.50pm Hello, everyone. An early update from S Sudarshanan, who is in Pallekele: "Drizzling now. Should be passing showers because I can see clear skies behind the dark clouds. A bit overcast now. Covers not yet on."
Pallekele is where the India vs Pakistan game was played too, and all we got was one stop-start innings. So the weather is something to keep an eye on. As such, rain could well be a constant throughout this Asia Cup.