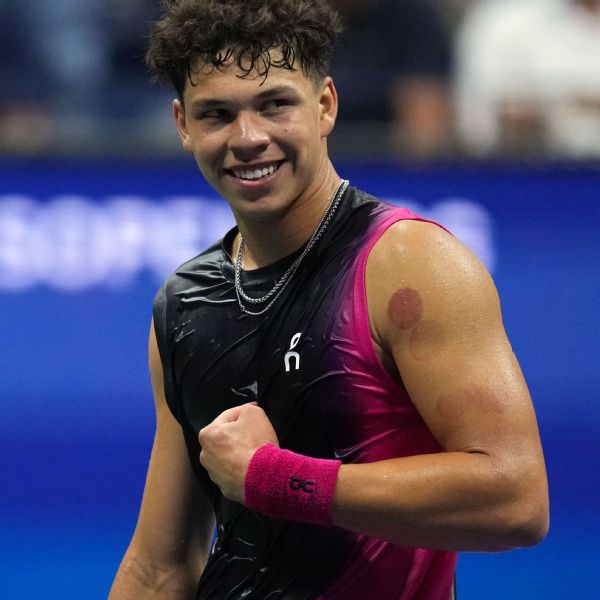 NEW YORK — Ben Shelton reached his first Grand Slam semifinal at age 20 by edging Frances Tiafoe 6-2, 3-6, 7-6 (7), 6-2 at the US Open in a back-and-forth contest filled with huge hitting by both on a muggy night.
The matchup, which began in Arthur Ashe Stadium on Tuesday evening and ended after midnight on Wednesday, was the first major quarterfinal of the Open era, which dates to 1968, between two African American men.
It was also the first US Open quarterfinal since 2005 between two men from the host country, which hasn't claimed a Slam trophy in men's singles since Andy Roddick won at Flushing Meadows two years prior to that.
The crowd seemed to have a tough time deciding for whom to cheer, prodding both players at various points of the often even matchup.
Shelton will face 23-time major champion Novak Djokovic on Friday for a berth in the final. Djokovic reached his record 47th Grand Slam semifinal, breaking a tie with Roger Federer for the most by a man, by defeating Taylor Fritz 6-1, 6-4, 6-4.
As good as Shelton's serve is — he hit 14 aces to raise his tournament-high total to 76 but also hit 11 double faults — it was a return that put him in charge in the pivotal third-set tiebreaker against Tiafoe, who was a semifinalist in New York a year ago.
Shelton wasted two set points at 6-4, one by double-faulting, and then double-faulted again to allow Tiafoe to be a point from the set at 7-6.
That's when Shelton ripped a forehand return winner off an 83 mph second serve to extend the set at 7-all. Tiafoe then netted a forehand, followed by sending a backhand long. Shelton celebrated taking that set by leaning over and pointing to his ear, asking for more noise from the fans, then tapped his chest as he walked to the sideline.
Soon enough, he was breaking to get going in the fourth set. In all, he won seven of Tiafoe's service games.