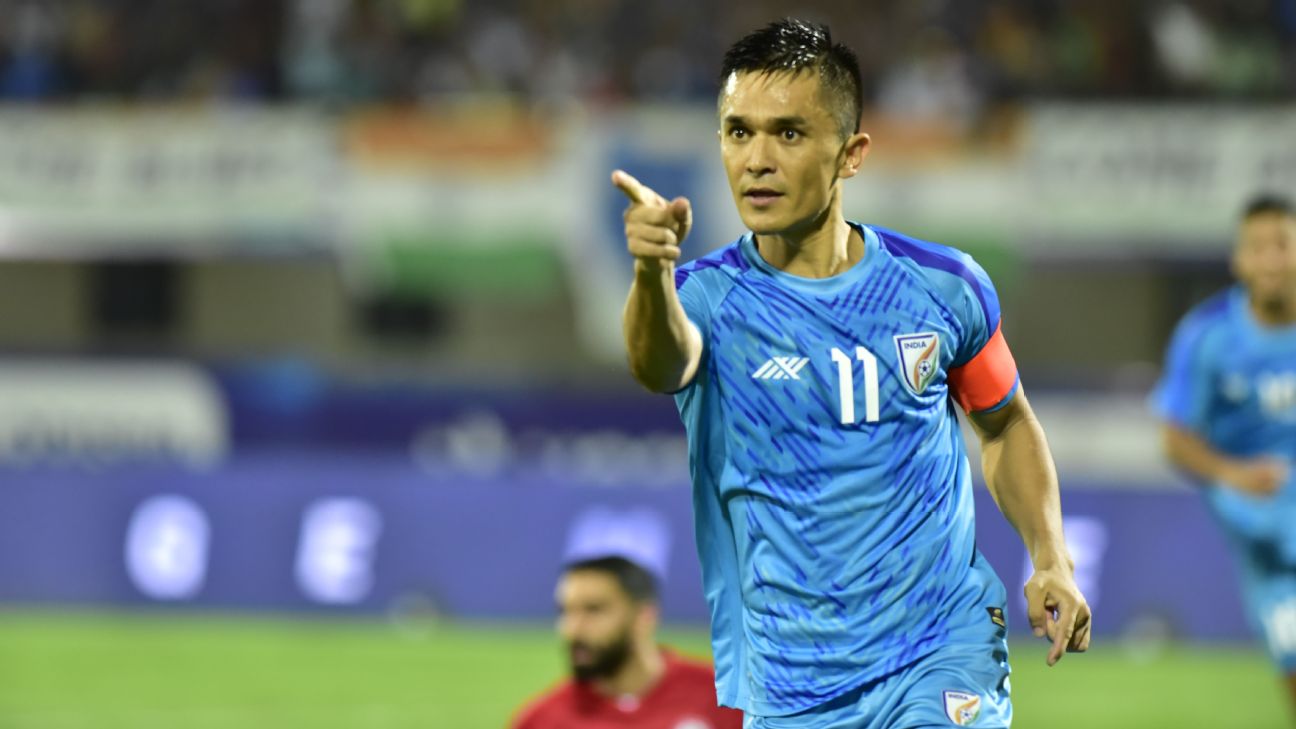 Sunil Chhetri will lead the Indian men's football team at the Asian Games as the All India Football Federation (AIFF) named the 17-member squad on Wednesday.
The announcement ends widespread confusion regarding the Asian Games-bound squad, with many Indian Super League (ISL) clubs reportedly unwilling to release their players for the quadrennial event. The football competition at the Games is to begin on September 19, while the ISL is slated to kick off two days later.
While football at the Asian Games is usually a U-23 competition, each team is allowed to field three players over the age bracket. Sandesh Jhingan, Gurpreet Singh Sandhu and Chhetri were the three seniors shortlisted, but now only Chhetri will feature in the team. This also means that Bengaluru FC will miss their skipper's services for their mouthwatering opening clash against Kerala Blasters.
Commenting on the team announcement, AIFF president Kalyan Chaubey said, "It has been a hectic time for Indian football season this time. We have a tight schedule within a short period of time that was not easy to manage.
"There have been too many things happening, both at the domestic and the international level, involving India's National Teams, as well as the ISL clubs. While the Senior National Men's Team successfully completed playing a series of matches, they are also awaiting to play the Asian Games, followed by Merdeka Cup, World Cup Qualifiers, and the AFC Asian Cup." He thanked the ISL clubs for making the team's participation possible. The men's team is competing at the Asian Games after a nine-year gap.
"There were situations which were unavoidable and demanded a great balancing act. It was never easy, but at the same time, I must reach out to FSDL and the clubs, thanking them for making it possible. The Indian National Team are going to the Asian Games after a nine-year gap, and it has become possible because of the active support the Indian Football received from the Government of India, especially the Ministry of Youth Affairs and Sports," he said.
Indian men's football team for the Asian Games
Gurmeet Singh, Dheeraj Singh Moirangthem, Sumit Rathi, Narender Gahlot, Amarjit Singh Kiyam, Samuel James, Rahul KP, Abdul Rabeeh Anjukandan, Ayush Dev Chhetri, Bryce Miranda, Azfar Noorani, Rahim Ali, Vincy Bareto, Sunil Chhetri, Rohit Danu, Gurkirat Singh, Aniket Jadhav.