Trevor May rips Athletics owner while announcing retirement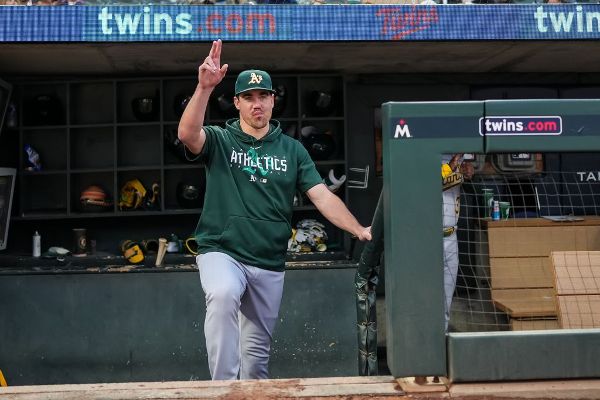 Oakland Athletics relief pitcher Trevor May ripped owner John Fisher while announcing his retirement on his Twitch stream Monday.
"Sell the team, dude. … Sell it, man," he said. "Let someone who actually, like, takes pride in the things they own, own something. There's actually people who give a s— about the game. Let them do it. Take mommy and daddy's money somewhere else, dork."
Fisher, whose parents founded Gap, is attempting to relocate the A's to Las Vegas in a move heavily criticized by Oakland fans. Fisher has been unloved by the fan base for years as the team routinely ranks near the bottom in payroll.
The A's finished a major-league-worst 50-112 this season.
"If you're going to be a greedy f—, own it," May said. "There's nothing weaker than being afraid of cameras. … Do what you're going to do, bro. Whatever, you're a billionaire, they exist, you guys have all this power — you shouldn't have any because you haven't earned any of it, but anyway, whatever."
A veteran of nine years in the majors, May spent his first six with the Minnesota Twins before two seasons with the New York Mets. The 34-year-old right-hander had 21 saves for the A's in 2023 and went 4-4 with a 3.28 ERA in 46⅔ innings.
He finished his career on an impressive roll, going 1-0 with nine saves and 0.00 ERA in his final 15 appearances.
Reuters contributed to this story.